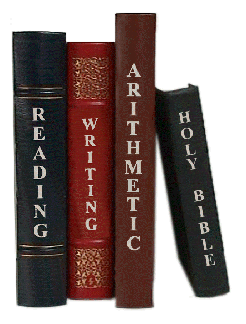 Concerning all four books above: after reading, there will be a test!
Sometimes when I walk through the church, I see someone quietly praying the rosary or reading the Missal. Sometimes they are kneeling in prayer or silently sitting gazing at the sanctuary.
Sometimes, they are studying.
And there's nothing really wrong with that. Here's the way I see it:
1.
The Church is quiet.
2.
Rarely will someone disturb you if you are sitting quietly in church
. It's one of the last social taboos "You don't mess with people who are praying". It's almost as sacred as "Don't look at someone who's crying" and "Don't acknowledge the booger on someone's shirt".
3.
The Blessed Sacrament is there
. Numerous scholarly saints have had devotions to the Blessed Sacrament. It wouldn't surprise me if they didn't carry their own academic work before the tabernacle. We bring our worries and our questions to Christ, why not our "Psych 101"?
Ignatius of Loyola: Praying, studying, winning!
Now, if you do come to the church and study, there's an etiquette:
1. Don't create a study group in the sanctuary. Keep it to yourself. And no COFFEE, DRINKS, BROWNIES or anything you get at a coffee shop. Not in the church! However, you can bring a brownie to the office. I'll take it!
2. Viewing an ipad is ok but don't view any youtube videos or play some Kirko Bangz while viewing.
3. Don't leave anything behind when you leave. Keep it the way you found it.
4. Conclude with a prayer. This is a good one from the holy braniac, St. Ignatius of Loyola:
Take, Lord, and receive all my liberty,
my memory, my understanding,
and my entire will,
All I have and call my own.
You have given all to me.
To you, Lord, I return it.
Everything is yours; do with it what you will.
Give me only your love and your grace,
that is enough for me.
And then go and ace that exam!
(Pastoral warning: Studying in church will not guarantee favorable or passing grades where there were none in the past. Miracles are not to be expected or demanded and if you blew off most of the semester and now are trying to redeem yourself, well, good luck on that. God bless you!)