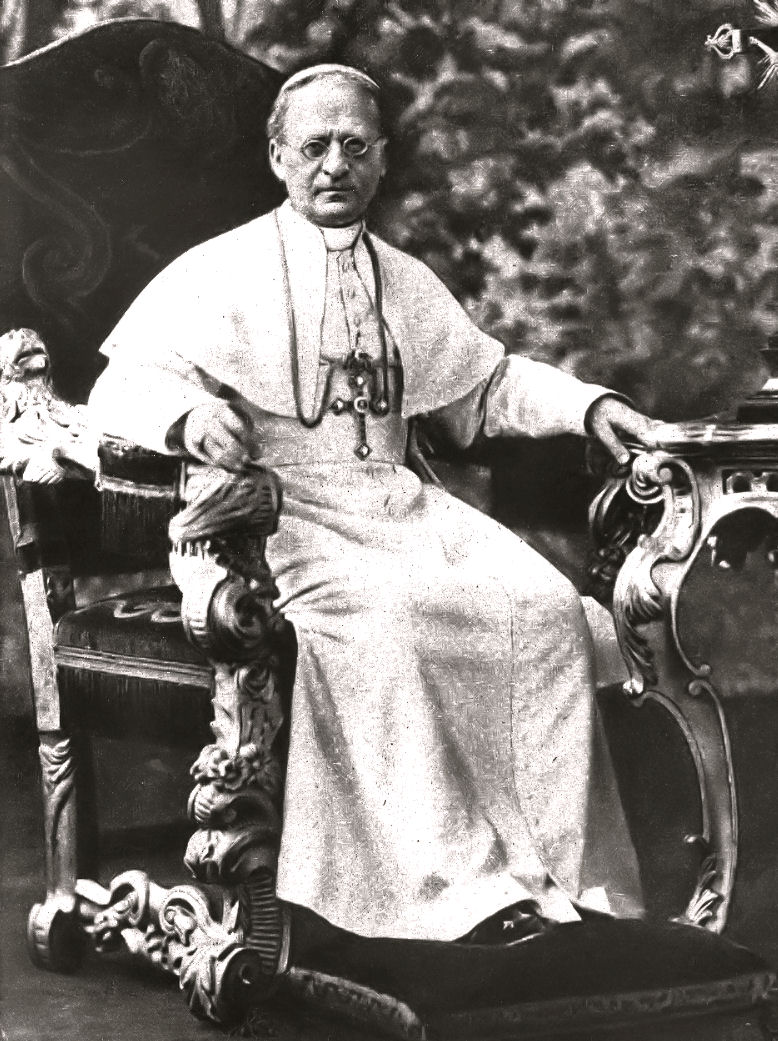 Pius XI author of the ACT OF REPARATION
I found out that there was a plenary indulgence to be had if
this prayer
were said aloud in public. Not to pass up such a chance, I ran it off and handed it out at the noon(ish) Mass today.
In the prayer, the Act of Reparation to the Sacred Heart, was this line:
We wish also to make amends for the insults to which Thy Vicar on earth and Thy priests are subjected, for the profanation, by conscious neglect or terrible acts of sacrilege, of the

very crimes of nations who resist the rights and teaching authority of the Church which Thou hast founded.
In some
translations
, the line is "public crimes of nations" but the intention is clear, the Christian body asks to make amends for supporting, aiding, endorsing or accepting the corruption or abuse of the Church's right and authority to bring forth the Gospel.
Which leads me to this curious and timely e-mail from our Vicar General:



Visit www.Fortnight4Freedom.org for prayer resources, including the Litany for Liberty. Encourage parishioners to visit the site for daily reflections throughout the fortnight. Resources also available in Spanish.




Celebrate a Mass, Holy Hour with Adoration, Rosary, or Word Service in your parish or mission church to kick off the fortnight on June 21 and to conclude the fortnight on July 4.




Utilize the bulletin insert PDFs we sent previously in English and Spanish.




TAKE ACTION! Contact HHS and your Senator and Representative in Congress. Deadline for public comment is June 19. Click on Take Action for details.




Use the following prayer after the Final Blessing at Masses during the Fortnight. Make copies of it for parishioners to pray each day during the Fortnight.
And nothing from our Bishops would be complete without a "Creator God" prayer:
through the power and working of your Holy Spirit, you call us to live out our faith in the midst of the world, bringing the light and the saving truth of the Gospel to every corner of society. We ask you to bless us
in our vigilance for the gift of religious liberty.
Give us the strength of mind and heart
to readily defend our freedoms when they are threatened;
give us courage in making our voices heard
on behalf of the rights of your Church
and the freedom of conscience of all people of faith. Grant, we pray, O heavenly Father,
a clear and united voice to all your sons and daughters gathered in your Church
in this decisive hour in the history of our nation,
so that, with every trial withstood
and every danger overcome—
for the sake of our children, our grandchildren,
and all who come after us—
this great land will always be "one nation, under God,
indivisible, with liberty and justice for all."
W

e ask this through Christ our Lord.
O

h, and in Spanish:
OH SEÑOR, CREADOR NUESTRO.

De tu mano bondadosa hemos recibido

el derecho a la vida, a la libertad y a la

búsqueda de la felicidad.

Tú nos has hecho tu pueblo y nos has dado el derecho y el deber de venerarte a ti, único Dios verdadero, y a tu Hijo, Jesucristo.

Por el poder y la obra del Espíritu Santo, nos llamas a vivir nuestra fe en el mundo llevando la luz y la palabra salvadora del Evangelio a todos los confines de la sociedad.

Te pedimos nos bendigas mientras cuidamos del don de la libertad religiosa.

Danos fortaleza de mente y corazón para estar siempre dispuestos a defender nuestras libertades cuando son amenazadas.

Danos valentía para que se escuchen nuestras voces en defensa de los derechos de tu Iglesia, y de la libertad de conciencia de todas las personas de fe.

Te pedimos, Oh Padre celestial, que

en esta hora decisiva de la historia de nuestra nación, y reunidos en tu Iglesia,

des a todos tus hijos e hijas una voz clara y unida para que con cada prueba que encaremos, y cada peligro que superemos, —por el bien de nuestros hijos, de nuestros nietos, y de todos los que vengan después de nosotros—

este gran país sea siempre "una nación, bajo Dios, indivisible, con libertad y justicia para todos".

Te lo pedimos por Jesucristo, Nuestro Señor.




Copyright © 2012, United States Conference of Catholic Bishops, Washington, DC. All rights reserved. Todos los derechos reservados
While the Sacred Heart prayer involves our own guilt in neglecting to be pro-active Catholics in our national arena, the USCCB prayer asks for blessings. The Sacred Heart reminds us that reparation and making amends are the result of our blessings.
The liberties we have of living out our faith convictions and serving those who may or may not live according to the Gospel is threatened. If this were just hyperbole, I'd doubt our Diocese would participate. A tolerant lot they are.
So this is a big deal for our rights...derechos...and our faith.