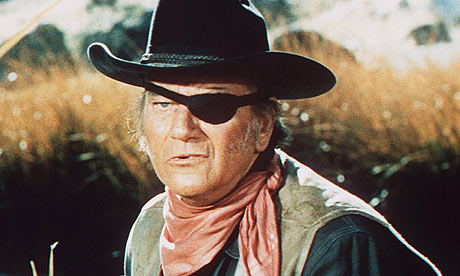 John Wayne, even to this day is known as THE model of American manliness. The swagger, the rough exterior and the heart of cold, whether he portrayed a soldier, a cop or cowboy, he was literally THE MAN. The Duke!
John Wayne also famously made a conversion to Catholicism on his deathbed. And even though some people say that's the easy way, it seems to have produced good fruit. His grandson is a priest!
Fr.Matthew Munoz is the grandson of the famous filmstar and attributes much to his famous grandpa's faith:
Fr. Muñoz was 14 years old when his grandfather died of cancer in 1979. In his lifetime, "The Duke" won three Oscars, the Congressional Gold Medal and was posthumously awarded the Presidential Medal of Freedom. Of all those achievements, though, Fr. Muñoz is most proud of just one – his grandfather's conversion to the Catholic faith.
Fr. Matthew Munoz, grandson of THE DUKE
"My grandmother, Josephine Wayne Saenz, had a wonderful influence on his life and introduced him to the Catholic world," said 46-year-old Fr. Muñoz, a priest of the Diocese of Orange in California.
"He was constantly at Church events and fundraisers that she was always dragging him to and I think that, after a while, he kind of got a sense that the common secular vision of what Catholics are and what his own experience actually was, were becoming two greatly different things."
The story is
here
.