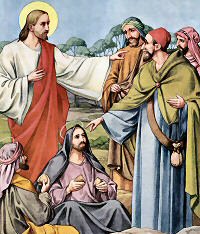 Jesus and the Pharisees: "Art thou mad, bra?"
The Catechism is being published in HEBREW! I did a double-take this morning when I read about it but it makes good sense.
L'Osservatore Romano reports that the first three volumes of the Catechism (presumably the first three parts of the Catechism of the Catholic Church) have been translated into Hebrew. Father David Neuhaus, the Latin patriarch's vicar for Hebrew-speaking Catholics in Jerusalem, worked "silently and discreetly" on the translation, with the assistance of Father Pierbattista Pizzaballa, the Franciscan Custos of the Holy Land.
Father Neuhaus explains that the Hebrew-speaking Catholics to whom he ministers "are mainly of mixed Israeli origin: relatives of Jews, children of Jews, some converted Jews and other persons who are not Jewish but have been integrated into Jewish society … We insist on Christian formation, Christian in a secular and Jewish environment."
http://www.catholicculture.org/news/headlines/index.cfm?storyid=13031
I was even more surprised to follow a link to a community of
Hebrew speaking Catholics living in Israe
l. The mind boggles! However, I am a bit comforted that the original hearers of the Gospel are still out there.
L'Chaim!