The seasonal "WAR ON CHRISTMAS" battle popularized by a certain network misses an even greater war: THE WAR ON ADVENT!
Advent--that great season of hope and expectation that precedes Christmas. Symbols of the season are a simplicity in Church decoration, the use of violet to denote its penitential and expectant nature and of course, the wreath.
That up there is a traditional Advent wreath. Evergreens in a circle symbolizing the enduring quality of hope. The three violet candles symbolizing expectation. The rose candle for the third week alerting us that Christ's birthday is near. Add a ribbon to taste. Classic.
But that's too simple isn't it, WESTERN CULTURE OF THE NEW MILLENNIUM? Had to come up with new ways of anticipating our Lord's nativity, dincha? BEHOLD THE TRAVESTY!
Advent balls. Too early to come up with a clever smart comment.


Crayola candle Creche-ifix
Advent boat shaped angel
O'Come O'Come O'Connor and O'Flaherty


Led Zeppelin Advent: If you light this wreath backward, it has secret messages from the devil
Advent..or do you mean AdMINT?
Miami Vice Advent Candles
During Miami Vice Advent, on the third week, Crockett goes to the edge in tracking a killer (Tony Shaloub).
Jewish Advent wreath: Christ is coming again or is he just coming for the first time?
Blue Advent under the Thunderdome
I suspect a group of sisters made this deadwood hanging Walmart scented candle deal. That's nun carpet.
All inclusive Advent hedge for the 4zillion weeks before Christmas.
Advent Candles circling the Death Star
And finally...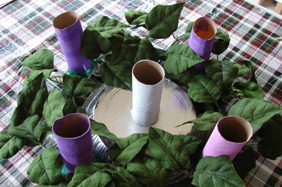 Advent wreath that makes you think of poop